Sirius Veterinary Orthopedic Center opened its doors, December 2016. At Sirius Veterinary Orthopedic Center, we feel that all of our patients are athletes. All you have to do is watch a pet spring off your bed or bolt up a flight of stairs to see how truly athletic they are. Whether your athlete is a champion agility dog or the family pet, it will be treated as if it were our own.
Our vision is to help return your four-legged athletes to their peak performance.
All cases seen at the Sirius Veterinary Orthopedic Center must be referred by your family veterinarian; we do not take walk-in clients. If you have been referred by your veterinarian we will work with them to acquire any needed information (medical record, x-rays, bloodwork, etc.). If you have not been referred to Sirius Vet, please contact your family veterinarian to see if a referral will benefit your pet. If you are not sure, please visit our Services page to see the services provided at Sirius Vet.
ABOUT THE SIRIUS NAME AND LOGO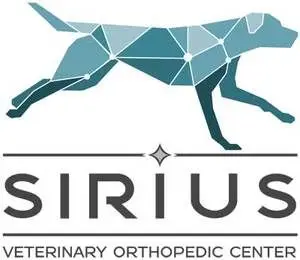 As some of you may know, Sirius is the "Dog Star" from the constellation Canis Major. Sirius is the brightest star in the Earth's sky. The ancient Egyptians noticed Sirius during the summer solstice and the ancient Greeks referred to it as the "dog days of summer" when Sirius was noted in the sky. Many of you will also recognize Sirius by the Alan Parsons Project from the Tunnel Walk during Husker game days in Memorial Stadium.
Our logo uses a mosaic pattern with lines and circles to give the feel of a constellation. We made a modification to the true constellation and placed the largest circle, Sirius, over the heart. The heart has been used as a symbol of love and health. At Sirius Vet, we all know how much you love your pet and we want to be at the heart of returning them to health. We also wanted to use an active animal in the logo. As stated before, our vision is to help return your four-legged athletes to their peak performance. Although the symbol is a dog; please do not think we only work with dogs. This is merely a symbol that embodies the name Sirius. We love and also work with cats and other four-legged athletes!