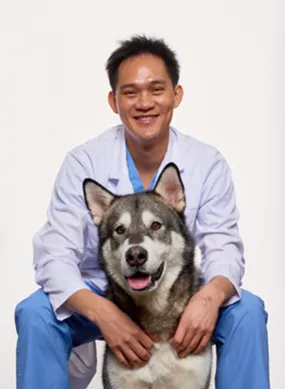 Dr. Desmond Tan has a strong passion for orthopedic surgery, specializing in minimally invasive fracture repair, arthroscopic procedures and joint replacements. Patient well-being and client satisfaction are of great importance to him, and he takes pride in providing tailored and attentive care for his patients.
He grew up in Singapore and graduated from the University of Melbourne, Australia. He received his post-doctorate speciality training at The Animal Medical Center in New York City, and the Veterinary Orthopedic and Sports Medicine Group in Washington DC.
Dr. Tan's research publications thus far include the only studies on traumatic fractures of the medial coronoid process in sporting dogs and micro-invasive diagnostic evaluation for shoulder pathology in dogs. He was also the lead author for a landmark publication describing a new technique for treatment of esophageal strictures, which is now considered standard of care in both dogs and cats.
Dr. Tan looks forward to providing your companions with excellent care!